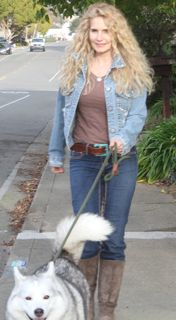 I am a certified, professional dog walker living in Gig Harbor, WA. I graduated from dog*tec's highly respected
Dog Walking Academy,
and have been certified in Pet First Aid by both PetTech and the American Red Cross. I'm also a graduate of American Humane & Red Star Disaster Sheltering for Companion Animals. I have been trained in wildlife search and rescue by WildRescue, and am fully insured by The Hartford and Kennel Pro. I also took a course in K9 Separation Anxiety Disorder taught by one of the foremost dog trainers in the San Francisco Bay Area, enabling me to work directly with dog trainers on resolving this issue.
While I have loved dogs since childhood, I am also passionate about a wide variety of animal welfare causes. In addition to volunteering with dog rescue groups, I worked to pass the Marine Mammal Protection Act, and helped raise money to produce a documentary about the first captive-born orca called Corky's Calf. As manager of the Gibbon Conservation Center, I held primary responsibility for the health of 56 rare and endangered apes, doing everything from training volunteers to feeding gibbons. I was also on the Center's Board of Directors for ten years, and continue to serve as an Advisor to the Board.
LICENSED, BONDED & INSURED.